Tonight, my beloved Brighton and Hove Albion make the long trip to Bury to take on FC United of Manchester.
Having toiled to a draw in the first game, Gustavo Poyet's charges will be hoping they can book a third round tear up with Championship spend-a-lots Portsmouth. I bet Sussex Police cannot wait.
Many of the Albion faithful believed the scare stories of thousands of rabid Mancunians rampaging Viking style through the leafy streets of BN1. For some absolutely ridiculous reason, the club and the local Old Bill decided to make it a Category C match, meaning only 850 FC United fans could get in.
Those that did served up a treat of retro ragamuffin support - complete with those much-missed 'Up for the cup' banners and chants based around the Sex Pistol's classic Anarchy in the UK and Slade's equally loved Cum On Feel The Noize.
It would be fair to say that the away support - much like the part time team they followed so relentlessly - put the home outfit to shame.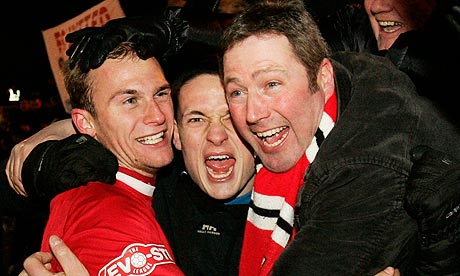 Surely then tonight is a chance for Brighton's travelling army to repay the favour. Not so. Despite taking more than 3,000 to Peterborough, Charlton and Southampton in recent weeks and already selling out the Boxing Day allocation at Dagenham, nobody is expecting more than few hundred northern nomads to grace Gigg Lane with their appearance.
Lack of holiday left, money being tight at Christmas, the game being shown live and Poyet's penchant for playing the reserves in the cup are all contributory factors.
It is a shame though that for a club like FC United - forged from circumstances not a million miles from those which threatened to rip the Albion off the face of the fooballing map - will have a half empty away end for their biggest ever match.
I do the occasion spot of freelance journalism and was asked by FourFourTwo to do a blog commenting on the Green and Gold protests a few months back (
here it is
)
I got a fair bit of stick from United fans. I stand by it though. For a section of the Old Trafford support to have to up sticks and set up their own club speaks volumes for their passion - and football morals. The ones who remained should hang their heads in shame.
Obviously, I will be glued to ESPN hoping the Seagulls sneak through. But in reality, regardless of the outcome of the match, the fact that a club like FC United even exists shows that proper football is still a winner.
FC don't need to cause an upset tonight to prove that.